Ibn Sina is a robot in need of friends on Facebook. This "facebot"
is the creation of the Interactive Robots and Media Laboratory, part of
the College of IT of the United Arab Emirates University.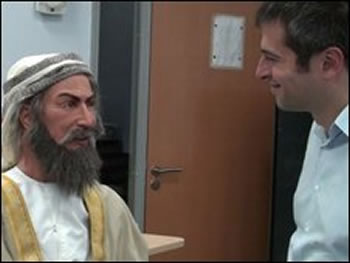 (Facebot Ibn Sina robot)
The robot has three software modules that aid it human interaction. One module distinguishes faces of humans and the pictures they post on Facebook.
A language module allows the machine to have real-time discussions and helps it continue a catalog of its friends and their data on Facebook. This allows it to maintain its own Facebook profile. It also has a supplementary range finder, touch screen and stereo camera.
"The robot will create a personal entry for itself in Facebook. Upon meeting a human it has not encountered before, it will ask for his/her name, and search for him in Facebook. Upon finding him, the human's Facebook entries (age, home town, profession) will serve as a starting point for simple dialogs."
The Ibn Sina robot will keep track of interactions between itself and human friends, using this information to create new dialogs. "As the human and the robot are
embedded in a social web, possible co-acquaintances between the robot and the human will be exploited too: encounters with and / or information about mutual friends will also be used: ('I saw Michael yesterday')."
The project, entitled "Facebots: Robots utilizing and publishing social information in FaceBook", has received funding from Microsoft. Note that this is a different use of the term "facebot" - it does not refer to a malicious botnet.
"...there are few places in the world where maintaining multiple long term social relationships in various circles is so important (and enjoyable) as it is in the middle east - and thus Facebots seem to have chosen the right place to enter human society."The robot is named and modeled after the brilliant Persian scientist and philosopher Abu Ibn Sina, whom western scholars came to know as Avicenna.
From International Business Times; see also the Interactive Robots and Media Laboratory site.
Scroll down
for more stories in the
same
category. (Story submitted 5/6/2009)